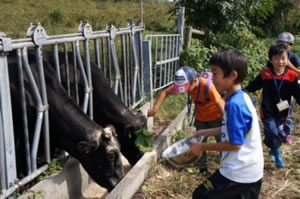 The National Sanbe Youth Friendship Center is one of 28 facilities administered by the National Institution for Youth Education.
The Friendship Center is a social education facility that provides young people with the opportunity to experience various educational activities.
The Center supports a wide variety of youth and general groups including group overnight experiences for schools, nurseries and kindergartens as well as training camps for school sports teams and clubs, university and adult groups.
Our Mission
Raise youth who can take a brave step forward in order to bring happiness to others.
Modern society is undergoing rapid change and there are no universal or absolute correct answers. Society requires individuals who can seek their own solutions (wisdom) and act under their own motivation (courage). At the Friendship Center, we hope to help develop as many youth as possible who seek to create a happy society while respecting themselves and others.
In order to accomplish our mission, our staff values the following:
Support with a Smile
At the Youth Friendship Center, we've chosen to spell support as "SAPPORT" with the "SA" representing "safety". Also, the "A" in "SAPPORT" resembles Mount Sanbe, the local symbol, and contains the Sanbe community's belief in working together.
Smile

In order to draw out guests' smiles, we, as staff, remember to smile and respond happily and enthusiastically.

Safety

We always consider our guests' safety first and work so that they can have peace of mind as they focus on their studies.

Pride

We take pride in working to support the development of the next generation.

Positive

Instead of saying "we can't", we think positively and consider what we can do to make something possible.

Rule

We are conscious of how our facility is a place to learn about the rules of society.

Try & Error

We value learning from mistakes. We bring this awareness to every aspect of our work and strive to connect this ideal to our guests' studies.
We aim for the following at our facility:
An essential facility where guests and the community can always feel loved
A facility that is a trusted community partner
Facility Catch-Phrase: Surrounded by Green at Sanbe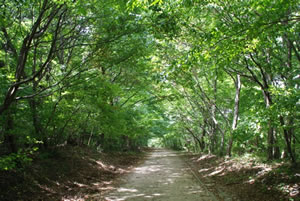 The National Sanbe Youth Friendship Center is located 600 meters above sea level in virgin forest at the foot of Mount Sanbe (1,126 meters), a part of the Daisen-Oki National Park. The rich, natural environment allows for various outdoor training activities during all four seasons. In September 2009, the National Institution for Youth Education created catchphrases for all its facilities to represent the image of each place. Sanbe's phrase, "Surrounded by Green at Sanbe", represents the shower of various greens from light to deep, dark green that can be enjoyed in each season including mountain cherry and zelkova in spring, snowbells and saw tooth oak in summer, konara oak and Manchurian walnut in autumn and red and black pine in winter as well as the wide, rolling meadows of the East and West Fields.
Logo

The logo was designed to represent the legend of Mount Sanbe, "The Three Bottles".
The three bottles of Sanbe are represented by the three founding values of the National Sanbe Youth Friendship Center, "love, wisdom and courage" and also the harmony of these three overlapping virtues and how they integrate in forming a peaceful personality (honest person).
The green represents the wide natural environment of Mount Sanbe while the white represents the purity of youth.